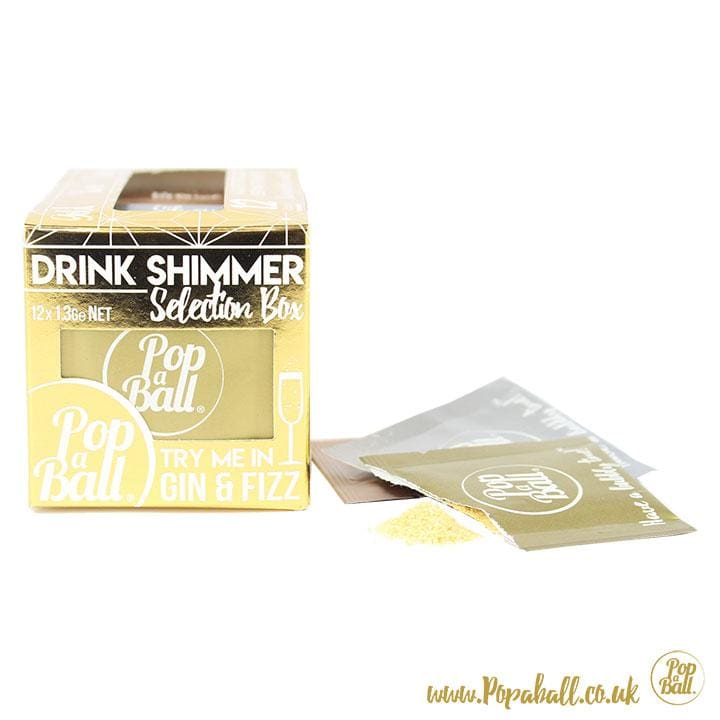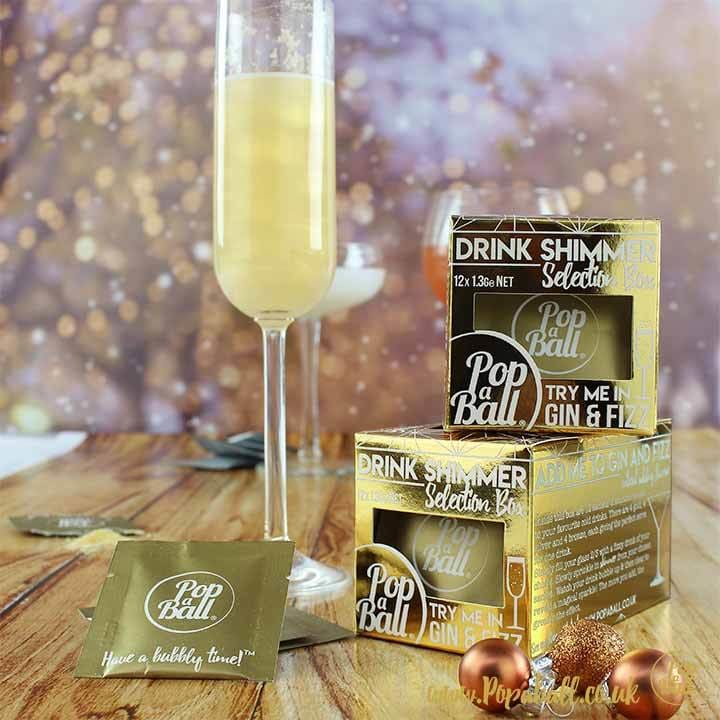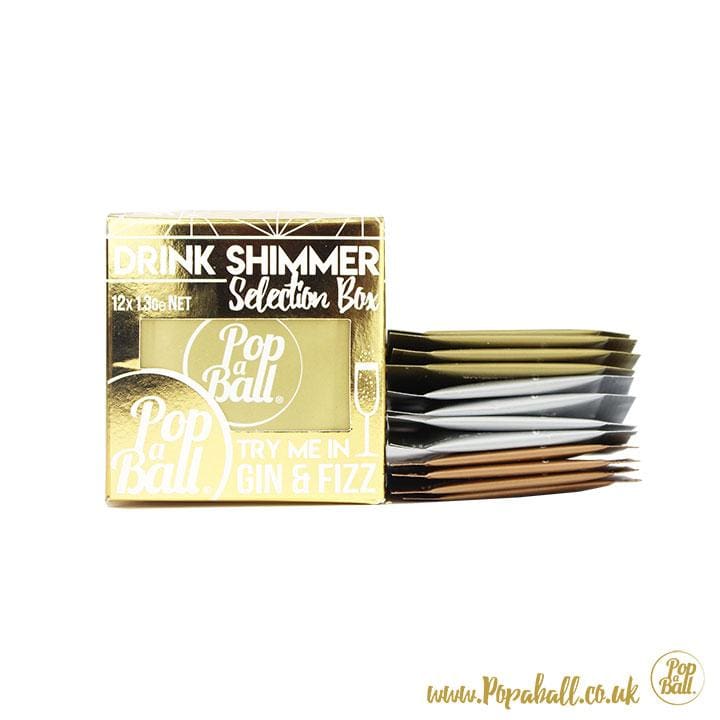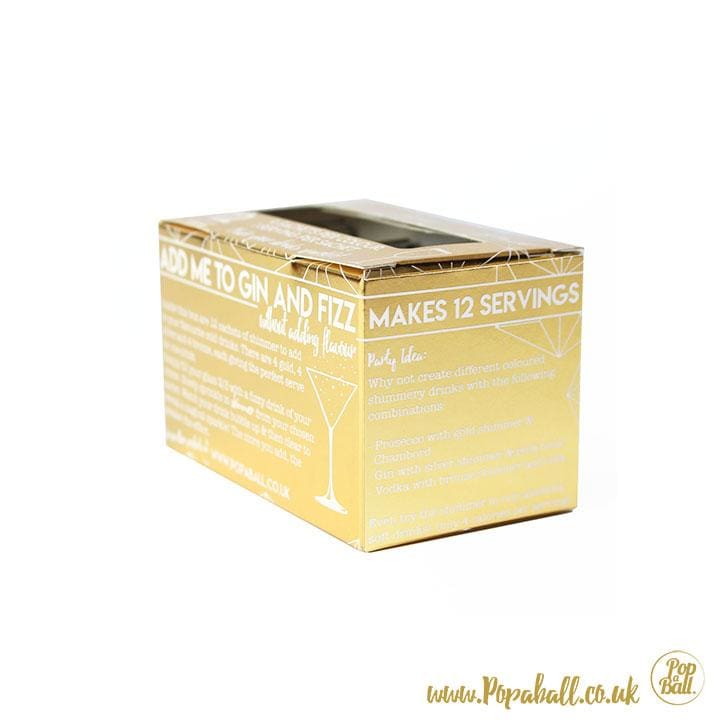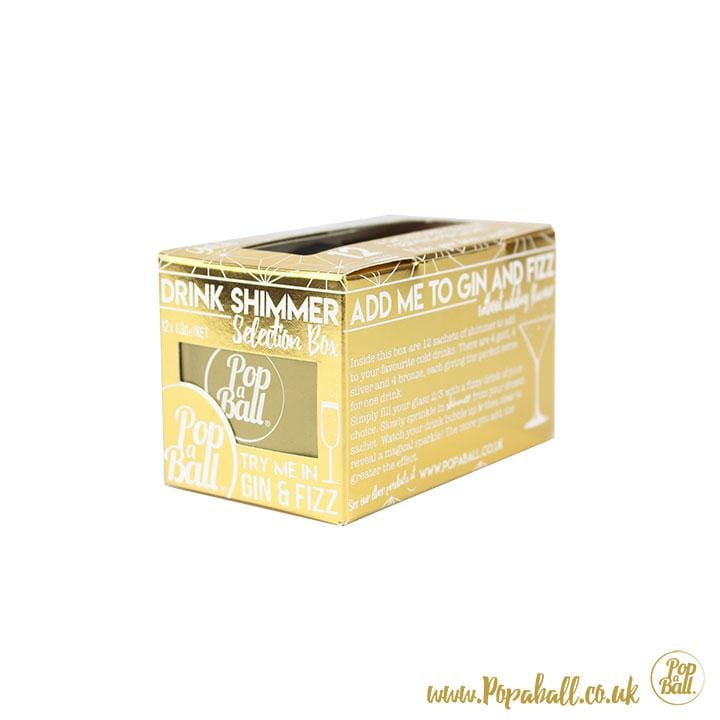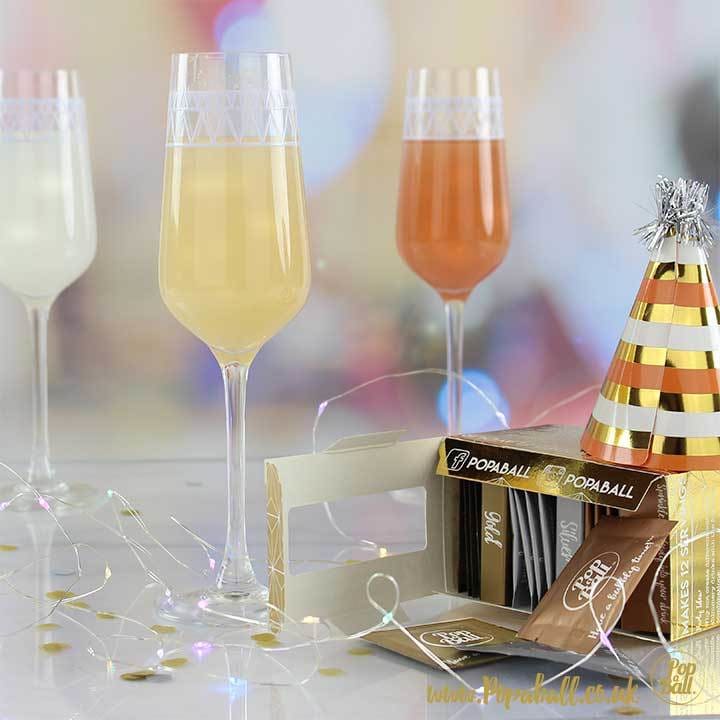 £8.99
£0.00
NEW! Drink Shimmer Selection Box
 DON'T WANT TO CHANGE THE TASTE OF YOUR CHAMPAGNE, G&T OR CIDER?
 NOW YOU CAN MAKE LUXURIOUS GLITTERY DRINKS WITHOUT CHANGING THE FLAVOUR

!
With our Gold, Silver and Bronze Drink Shimmer Selection Box
This amazing taster box allows you to try each colour, so you can see which effect is your favourite! 
You will receive:
4 sachets of gold drink shimmer
4 sachets of silver drink shimmer
4 sachets of bronze drink shimmer
Each sachet makes the perfect serve!
Tip: Each of our shimmers can be added to any drink, even Beer & Cider! So get creative! 
How to use your shimmer: 
1. 
Simply fill your glass 2/3 with a fizzy drink of your choice.
2. S
lowly sprinkle in shimmer from your chosen sachet.
3. Watch your drink bubble up and then clear to reveal a magical sparkle!

4. Sip away and enjoy your amazing, glittery drink!
Each Selection Box makes 12 Drinks!
ONLY 4 CALORIES PER SACHET
 Mix your shimmer into your drink with our shimmer stirrer!
Watch here to see how the shimmers work!
Shimmer Ingredients
Flavourless Gold Drink Shimmer Ingredients: Sugar, Citric Acid, E172, Bicarbonate of Soda, Malic Acid, Gum Arabic, Quillaja Extract, Colour: E171
Flavourless Silver Drink Shimmer Ingredients:

 
Sugar, Citric Acid, Bicarbonate of Soda, Malic Acid, Gum Arabic, Quillaja Extract, Colour: E171 
Flavourless Bronze Drink Shimmer Ingredients: 
Sugar, Citric Acid, E172, Bicarbonate of Soda, Malic Acid, Gum Arabic, Quillaja Extract, Colour: E171